Bi-folding doors will give you the perfect excuse to use your patio or garden area more regularly at all times of the year. When added to a conservatory or orangery, our bi-folding doors will open and close in such a way that you can be guaranteed the most faultless of home extensions. Planet fits all bi-folding doors with a security conscious locking system.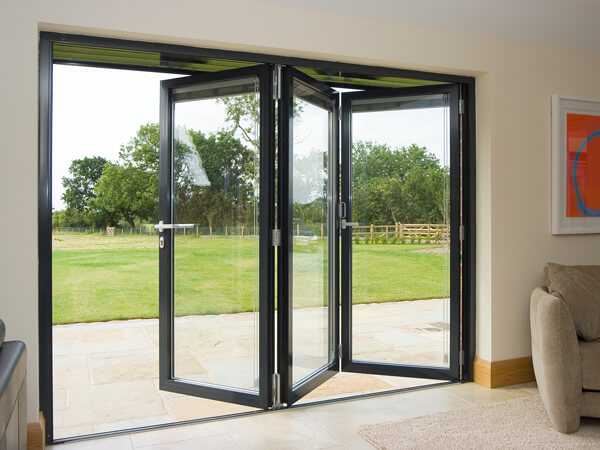 Even if you don't have a home extension, bi-folding doors can still be installed when you want to bring more natural light into your home in Cumbria or North Lancashire. It's incredibly easy to be drawn in by the beauty of a set of bi-Folding doors as they tend to have that effect on people.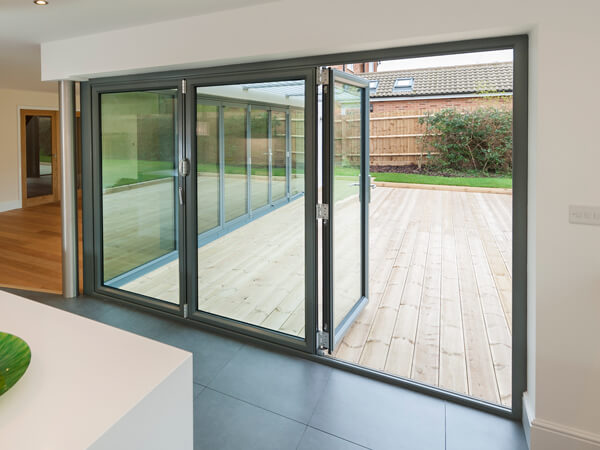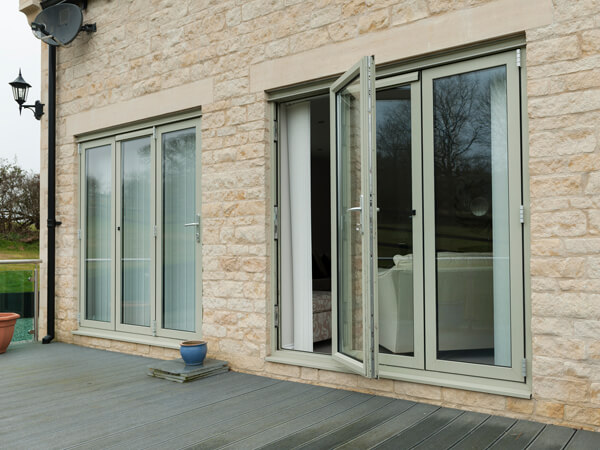 Bi-Fold Doors
When you come face-to-face with a bi-folding door, you would never believe that it can be moved with such little effort – a tiny exertion of force will be enough to get it to glide and fold open.
If you are interested in finding out more about the main features of an aluminium bi-folding door, click the hotspots.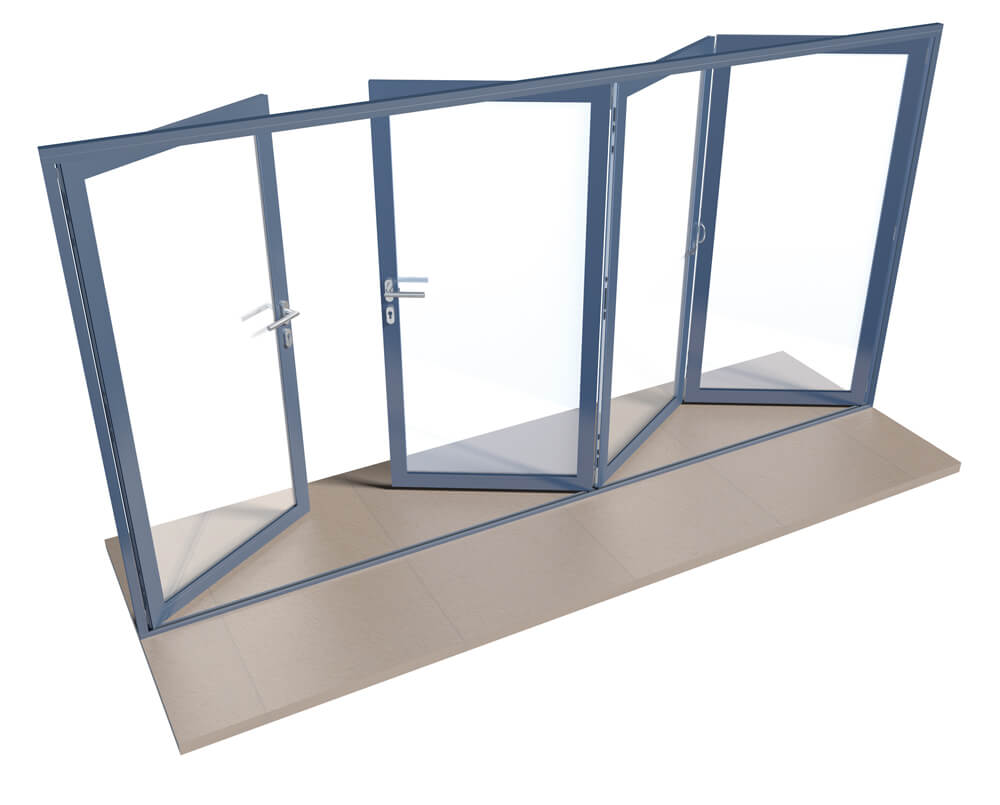 Bi-Fold Frame
Our Bi-Fold frames boast maximum warmth and security and slide effortlessly to the side to make the most of your space. You can even incorporate a discreet passenger door for everyday entry.
Bi-Fold hardware
Our Bi-Fold Door Handles come in a range of colours to suit your home, they're built to last with robust materials and quality finishes.
Bi-Fold Easy Glide System
The sliding operation of a bi-folding door relies on a high-quality stainless-steel track on which quad rollers, which are fitted to the door leafs, glide along in elegant fashion. The same quad rollers are fitted with a small brush on one end to keep the tracks free of dust and dirt.
Bi-Fold Low Threshold
Low level thresholds increase the ease of access for everyone involved. An optional outer and inner ramp can be added on to the threshold to further enhance the accessibility for wheelchair users.
Stylish as well as immensely secure…
One of the most fundamental components in our bi-folding door is the multi-point locking system that it has. It engages at various points and in various directions into a strong lock, which is what keeps the door sash fixed firmly into the door frame.
It can come with a double-glazed or triple-glazed unit, depending on the standard of energy efficiency that you want, which makes it difficult to break. Like all our door products, security comes first, with the cylinder locks housed by high-security master handles to keep intruders at bay.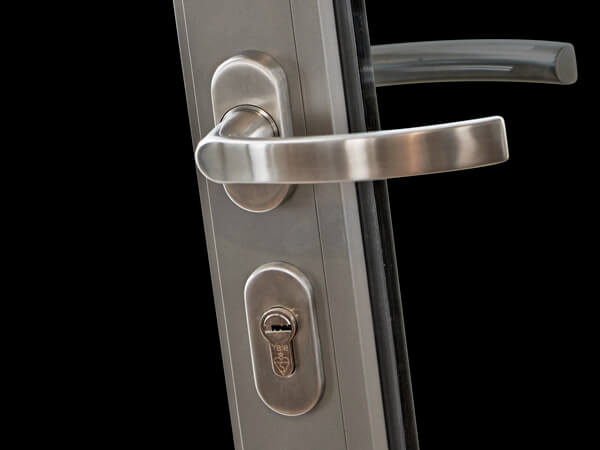 COMPLETE THE DESIGN IN STYLE
Work will begin on producing your aluminium bi-folding doors after our designers have been notified of your choice of colour, glazing and hardware.
Find a configuration that suits your home layout…
Planet will always work in your interests, so we're very happy to manufacture our bi-folding doors into one of a series of potential configurations. A bi-folding door could be how your conventional living space connects to your conservatory or orangery or maybe your garden, with a 7-pane design available if you have the space to occupy it.
Add to the wow factor of a bi-fold door with your choice of colour...
Our three sublimated woodgrain finishes replicate the appearance of real timber to such an extent that you could be forgiven for questioning whether our bi-fold doors are made from aluminium. The contours and shading naturally present on timber products are emulated incredibly by our aluminium counterparts
The external face of a bi-fold door must complement the external architectural features of your property, and the inside face must complement the internal décor of the room in which it is fitted – one colour may not necessarily suffice so you may want to consider a dual colour bi-fold door.
The handle makes the use of a bi-folding door so easy…
No matter what configuration you opt for, your bi-folding door will likely require three types of handles. A pass door and integrated French door will need a master handle, which will house a cylinder lock and be used to engage the multi-point locking mechanism at the time when the bi-folding door is closed.
Each individual section of a bi-folding door also needs a D-handle and intermediate handle. The intermediate handle is what releases the folding panes from the door frame when it's opened and re-engages them when it's closed. The D-handle is used to pull or push the folding panes, where required. Our hardware range includes traditional and modern master handles that colour-match many of our intermediate and D-handles.
REQUEST YOUR FREE DOOR QUOTE
Simply fill in your details for your free, no obligation quotation, and click "Get Quote"
NEED MORE INSPIRATION? REQUEST A BROCHURE
Simply select the brochure(s) you would like to browse, fill in your details, and then click 'Download'.
Step 1 - Please select the brochure(s) you would like:
OUR FINANCE CALCULATOR
See how affordable your home improvement can be with our Finance Calculator.
Our friendly team will be pleased to help with any questions you may have.