Not only will a stable door fully open when you want to enter or exit your home, but you can also open the top half of the door when you want to let outdoor air circulate through your property.
It comes fitted with a multi-point locking system, making this one of Planet's most secure door designs. All homes in Cumbria and North Lancashire should be able to find Stable doors to their taste.
It's a design that's split into two, giving you the option of opening the top and bottom half of the door independently. Therefore, you could keep the upper half open to let some fresh air in and leave the bottom section closed for security.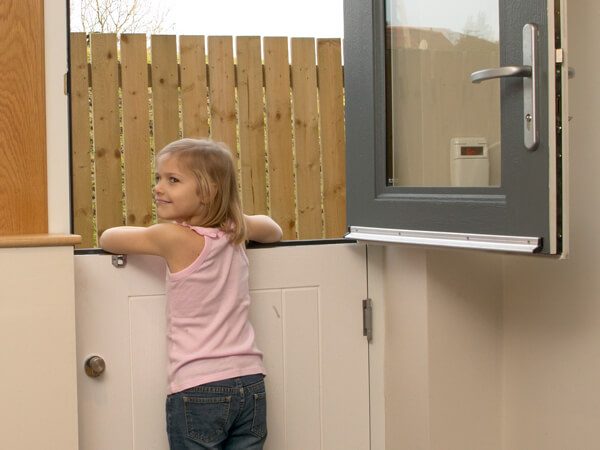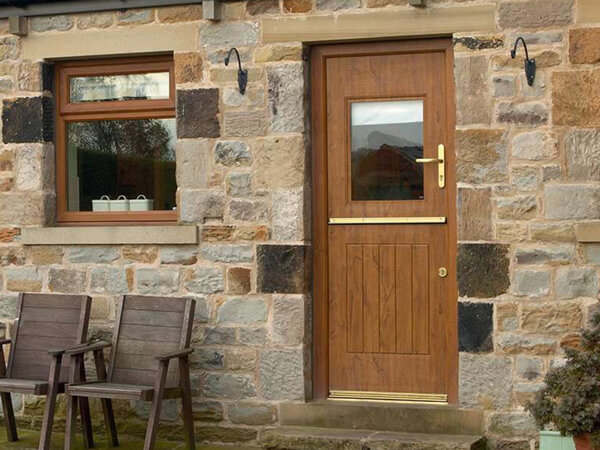 Composite door features at a glance...
Our composite doors have a GRP (Glass Reinforced Plastic) finish, which has been weather-tested to hurricane-like conditions so that we can be completely sure that it has the necessary staying power and won't come off second best to wind, rain, sun, snow, or ice.
The key features of our composite doors can be discovered by clicking the different hotspots opposite.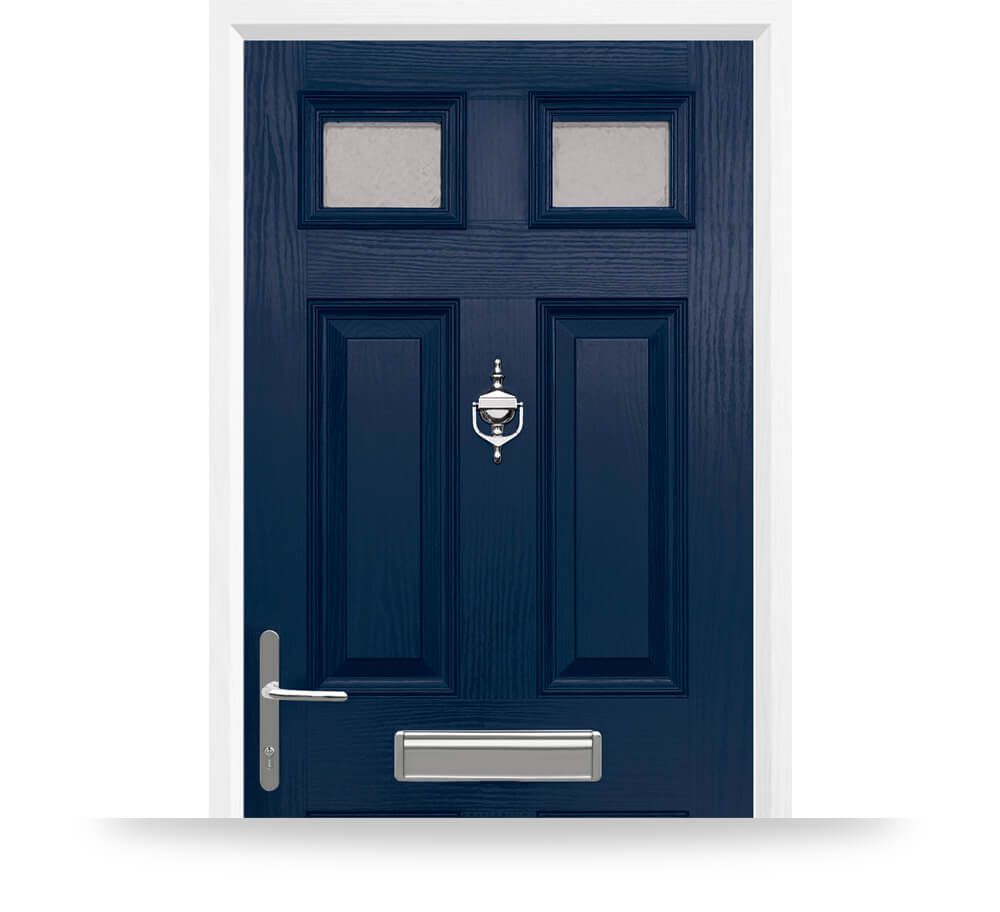 Frontline Security
High-security multi point lock which engages automatically upon closing so no need to lift the handle to engage your door, which means no more draughts or cold spots.
Frontline Hardware
Our Frontline Composite Doors come with a range of hardware including letterboxes, knockers and handles in a variety of colours to suit your home, they're built to last with robust materials and quality finishes.
Frontline Hinges
Anti-crowbar technology that delivers ultimate strength. Horizontal and vertical adjustment that results in 360-degree compression on seals for weather tightness.
Frontline Glazing
Available with a wide range of glazing styles, including obscure and decorative glass.
Put worries about security to the back of your mind…
For a shining example of a secure door, look no further than our composite doors, which also offer an unbeatable standard of thermal efficiency. They bring an end to heat loss and get rid of all those draughts that you might presently be feeling inside your home. Most pleasingly for some will be a reduction in energy bills, with the money savings going a long way towards paying for the door.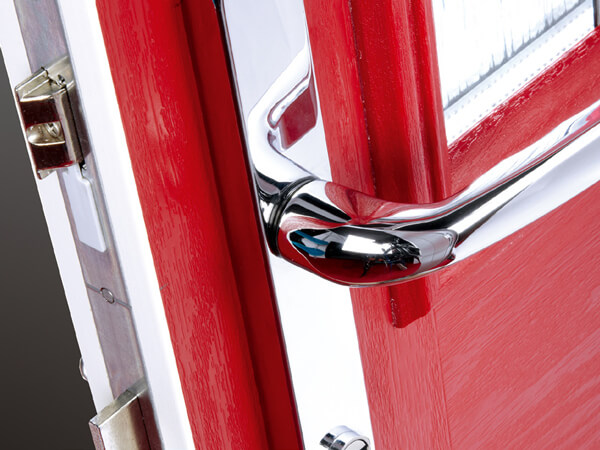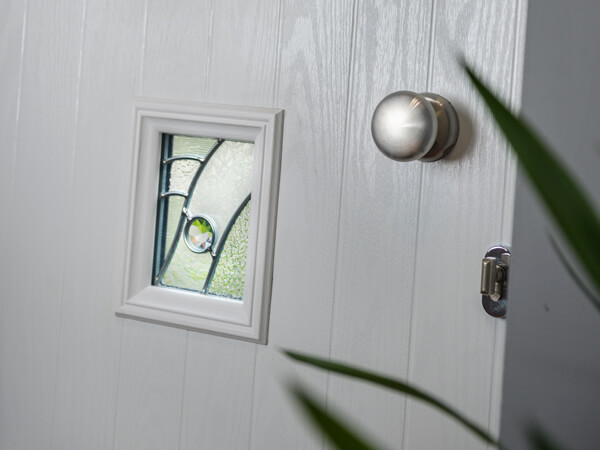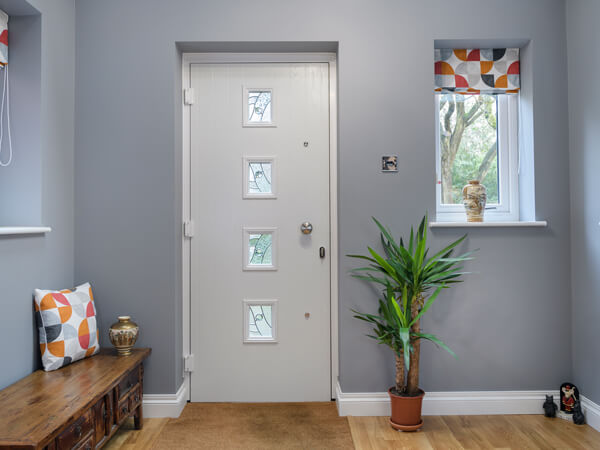 CUSTOMISE YOUR COMPOSITE DOOR
Our composite doors will often far outlast their expected lifespan and won't lose an ounce of their toughness. It could therefore be your entrance for many years, which is why it's essential that you give it a look that you love and will never tire of admiring. Go through all our colour options, glass styles and hardware options before you reach any design decisions. With our software, we can show you what the door will look like at your home.
Coloured composites of every kind at Planet...
White, black, red, and blue tend to be traditional and timeless colour choices for those selecting a finish for their composite door. Such is the wealth of colour options at Planet that there are a host of other finishes too to help make your composite door prominent at the front or rear of your home.
Grey and Chartwell Green are a couple of examples of you can give your composite a contemporary flavour. We also produce several Oak and Darkwood finishes for those wanting something that resembles timber.
A great handle makes for a great door
You can tell that our designers have put so much time and skill into the crafting of our handles as they're so brilliantly detailed and interesting to look at.
No handle is the same, with them all having their own unique style. There's some classics in the suite, along with some very cutting-edge handle designs.
Quality hardware completes a composite door...
Door furniture comes in many different forms, and we offer them all at Planet so that your composite door fully looks the part and functions as you'd expect.
Hinges, handles, letterboxes, knockers, numbers, locks, our hardware range encompasses everything and comes available in numerous styles. Leave it to Planet to help your door look the part.
REQUEST YOUR FREE DOOR QUOTE
Simply fill in your details for your free, no obligation quotation, and click "Get Quote"
OUR FINANCE CALCULATOR
See how affordable your home improvement can be with our Finance Calculator.
NEED MORE INSPIRATION? REQUEST A BROCHURE
Simply select the brochure(s) you would like to browse, fill in your details, and then click 'Download'.
Step 1 - Please select the brochure(s) you would like:
Our friendly team will be pleased to help with any questions you may have.