Homes with patio doors will have better access to their garden, more opportunities to utilise the patio area and have a vantage point from where they can have a great view of the outside world. Planet fits all patio doors on a sliding mechanism. This means once unlocked, all it takes is a swift slide to the side to step outside. Patio doors will also add further light to your home, turning a drab atmosphere into one full of energy and vibrancy.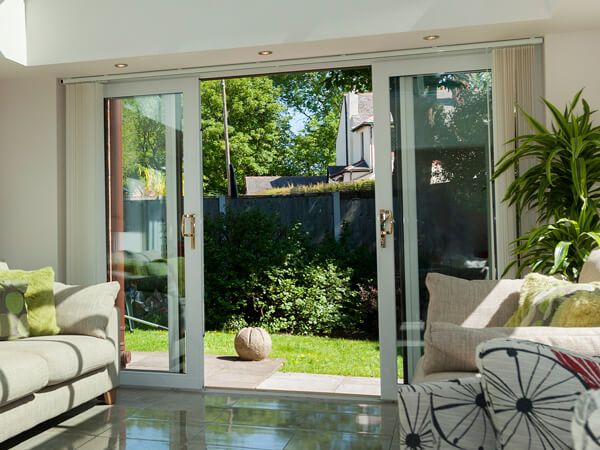 No two homes are ever the same so if you have a deep urge to own a set of Patio Doors we will install a design that fits neatly into whatever size aperture your abode happens to have available. Limited for space? A two-pane design will slot in nicely, whereas if you have plenty of space to play with then perhaps consider having a four-paned Patio Door.
Patio Doors offer an entirely different opening and closing motion from any other form of door as they operate via a sliding sidewards method and run elegantly across their runners. Once fitted, they will be one of the most utilised features in your home.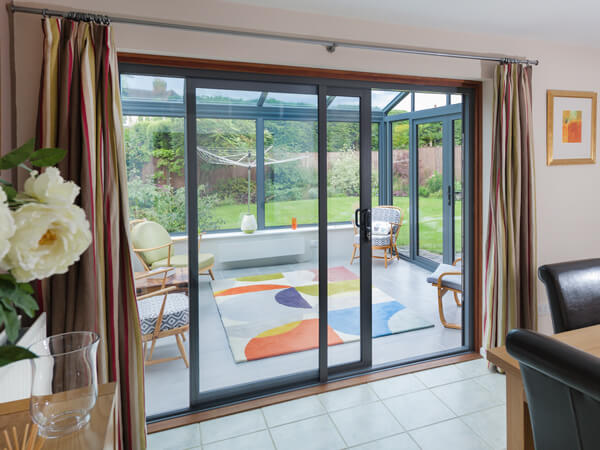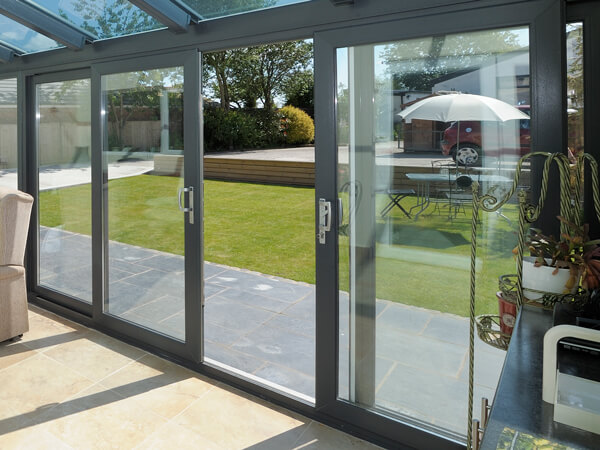 OPEN UP NEW POSSIBILITIES
A patio door installation will give your more freedom within your house and help you make the transition from one area of it to another in stylish fashion. It works via a sliding motion, with only a small amount of pressure needed to get the door running along the track, and when you do that, it can leave a room feeling bigger than it is. Because of the lack of an inward or outward opening, you can have furniture positioned close to a patio door without it interfering when you want to open and close the design.
Glass is the overarching feature of an aluminium design due to the sleek sightlines…
Aluminium has a long list of positive attributes and one of the biggest of them is how easy the material is to mould, which is how we've managed to create an aluminium patio door that's incredibly trim. You couldn't wish for a more up-to-the-minute look than the one you get with an aluminium patio door design.
When you get close to the aluminium frame, you will notice a subtle intricate contour on the outside that's very similar to the effect found on a traditional timber frame. All our aluminium finishes are applied using a powder-coating process.
Our fade-resistant powder-coated aluminium finishes are so visually enticing…
During the application of the powder-coated finish to the aluminium frame, strong paint adhesions are induced and it's this that makes the finish look so lively. Our aluminium woodgrain finishes are created rather differently. We follow a process called sublimation to develop the woodgrains and help them look like authentic woodgrains. They are available in Oak, Rosewood and Walnut.
UPVC requires very little upkeep and is inexpensive…
The customers that tend to favour a UPVC patio door do so because they know it will be extremely easy to clean and can be bought at a fantastically low price.
UPVC also has impressive thermal qualities, so these patio doors are excellent at keeping spaces warm and not as dependable on a boiler as your traditional patio doors, keeping fuel costs down.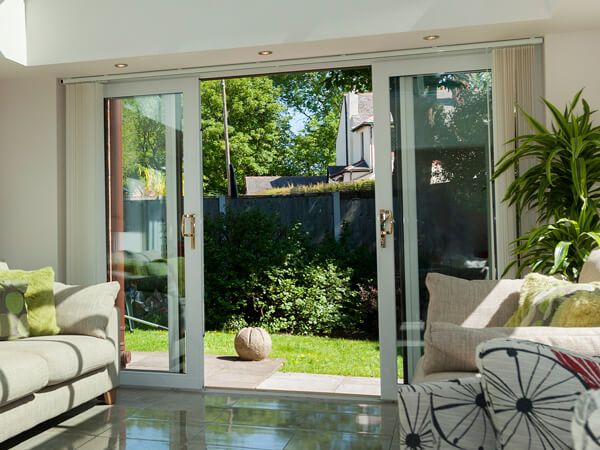 A colour range designed to make people stand up and take notice...
Once the configuration of the final Patio Door design has been agreed you then need to settle upon an appropriate finish and there is a wide selection of enduring colours to choose from. Going for UPVC or aluminium will far from restrict the options as both forms of material can be applied with a breadth of fabulous finishes, all of which are completely maintenance-free and need no painting.
The elegance of the door can originate from the handle…
The furnishing of a patio door starts with selecting a handle for the design and we have handles to suit the personality of any design.
We encourage you to carefully consider each individual handle in the suite as they each have unique character.
REQUEST YOUR FREE DOOR QUOTE
Simply fill in your details for your free, no obligation quotation, and click "Get Quote"
NEED MORE INSPIRATION? REQUEST A BROCHURE
Simply select the brochure(s) you would like to browse, fill in your details, and then click 'Download'.
Step 1 - Please select the brochure(s) you would like:
OUR FINANCE CALCULATOR
See how affordable your home improvement can be with our Finance Calculator.
Our friendly team will be pleased to help with any questions you may have.