An Edwardian conservatory is synonymous with having a simple square shape and other lasting traits. That doesn't mean that it cannot be modified to a homeowner's specific taste as happened in this example. Various seated areas were firstly established due to the symmetrical styling of the design and it has the usual vast headspace that you get in a traditional Edwardian conservatory. Where it differs from most Edwardian designs is that it is glazed from glass-to-floor. All this transparency provides the most magnificent and undisturbed views of the garden.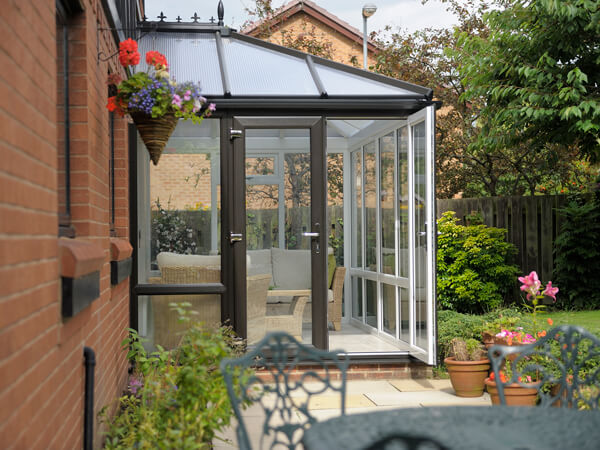 When it came to picking a roof covering the soon-to-be conservatory owners chose a polycarbonate roof. Their reasoning for this was because a polycarbonate roof is known for deflecting away excess warmth and cold. French doors are also present so that they can exit their conservatory for the garden in the most glamorous means – the handles attached to the doors have been meticulously crafted. There was only one appropriate colour in the minds of the occupants for their new extension and that was a brilliant, bold black. They did however decide to provide a contrast by having a traditional white applied to the inside of the frames.  It's black and white that this installation has worked a treat.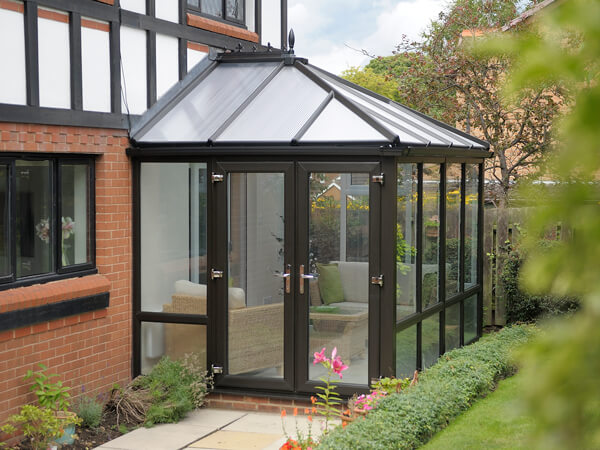 REQUEST YOUR FREE QUOTE
Simply fill in your details for your free, no obligation quotation, and click "Get Quote"
NEED MORE INSPIRATION? REQUEST A BROCHURE
Simply select the brochure(s) you would like to browse, fill in your details, and then click 'Download'.
Step 1 - Please select the brochure(s) you would like:
Our friendly team will be pleased to help with any questions you may have.